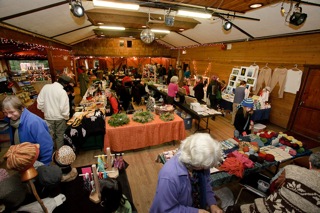 Manson's Community hall is located in the heart of Manson's Landing on beautiful Cortes Island in British Columbia, Canada. Since 1922, Manson's Hall has served as the centre for Cortes community gatherings, programs and activities for all ages.
Besides being a hub of meetings and social occasions, Manson's Hall houses several non-profit organizations and services within its walls.
When you wander through its corridors, you'll find that the Hall is bustling with people who work and volunteer to provide you with community services and programming. Everything from bringing you mail from afar to a hot mug of locally roasted coffee on a wind-whipped day!
Manson's Hall is operated by the Southern Cortes Community Association (SCCA). In addition to managing all the hall's leases, the SCCA also runs a weekly Friday market for local arts, crafts and food producers and provides space for the Cortes Food Bank.  Find out about short term rental options of the main hall or other spaces for your event or workshop.
Manson's Hall has provided space for many services to start small and grow. The Cortes Health Centre, North Island College and Coastal Community Credit Union all began in Manson's Hall. As our community profile changes, and bigger spaces are needed, so will the face of Manson's Hall. But the spirit of community and cooperation will live on!
You will find further information, hours and contact numbers for all of the above services and organizations on this website.
We acknowledge the financial assistance of the Province of BC through the Community Gaming Grant.