Manson's Hall is operated by the Southern Cortes Community Association, a registered, non-profit society and a charity. Membership in the SCCA is open to anyone who pays an annual fee. Members elect a Board of Directors at the annual general meeting, usually held in May. The directors volunteer their time and energy to help foster the spirit of community and cooperation, raise funds and carry out projects, hire staff and oversee finances, and make decisions about uses of the community hall including programs, leases, rentals and changes to the facilities.
2015-16 Board of Directors:
Jennifer Hartwick, President
Julian Ayers, Vice President
Myrna Kerr, Secretary, Treasurer
Andy Vine, Director
Clyde Dawson, Director
Andrew Copping, Director
Mags Johnston, Director
Diane Daly, Director
Hall Staff:
Mary Lavelle is the Hall Manager with assistance from Mark Christian. The hall office is located just inside the main entrance to the hall. Janitor Josée Gagnon keeps our hall clean and tidy. Eddy Mitchell looks after maintenance.
Any concerns should be reported to the hall office by phone, email or in person during office hours (11 a.m. – 4 p.m. Monday, Wednesday & Friday 10 a.m. – 4 p.m.)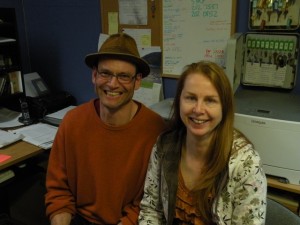 Mark & Mary