Located on the Manson's Hall property west of the parking lot, the Cortes Island Skateboard Park and play court for basketball is maintained by the SCCA with an annual budget provided by Strathcona Regional District.  Skateboarders on Cortes Island have been doing tailslides and shove-its at the world-known Cortes Skateboard Park since October 2002. After years of hard work and perseverance by many people in the community, it's another feature of our community to be proud of.
Skateboard Park History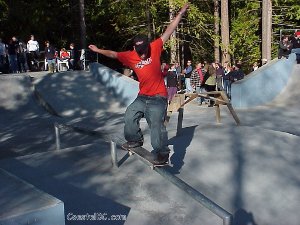 The vision took off with Romney Shipway in 1996. During those six years, he kept the project rolling through many obstacles such as lack of land, money and support, and other technicalities like insurance and building regulations.
The community rallied together to raise an amazing $150,000 from various fundraising efforts such as concerts, fashion shows, t-shirts, sweaters, donation jars, auctions and more! Another $100,000 came as in-kind donations of labour, materials and equipment. Click here to view the full list of donors.
Once all the pieces fell into place, construction of the Cortes Skateboard Park took six months! It was rated in North America's top ten and has since attracted professional skaters. Although Romney was hardly skateboarding at the time of its completion, the park gives youth the option to skate now and into the future.
Please wear protective equipment and use at your own risk!